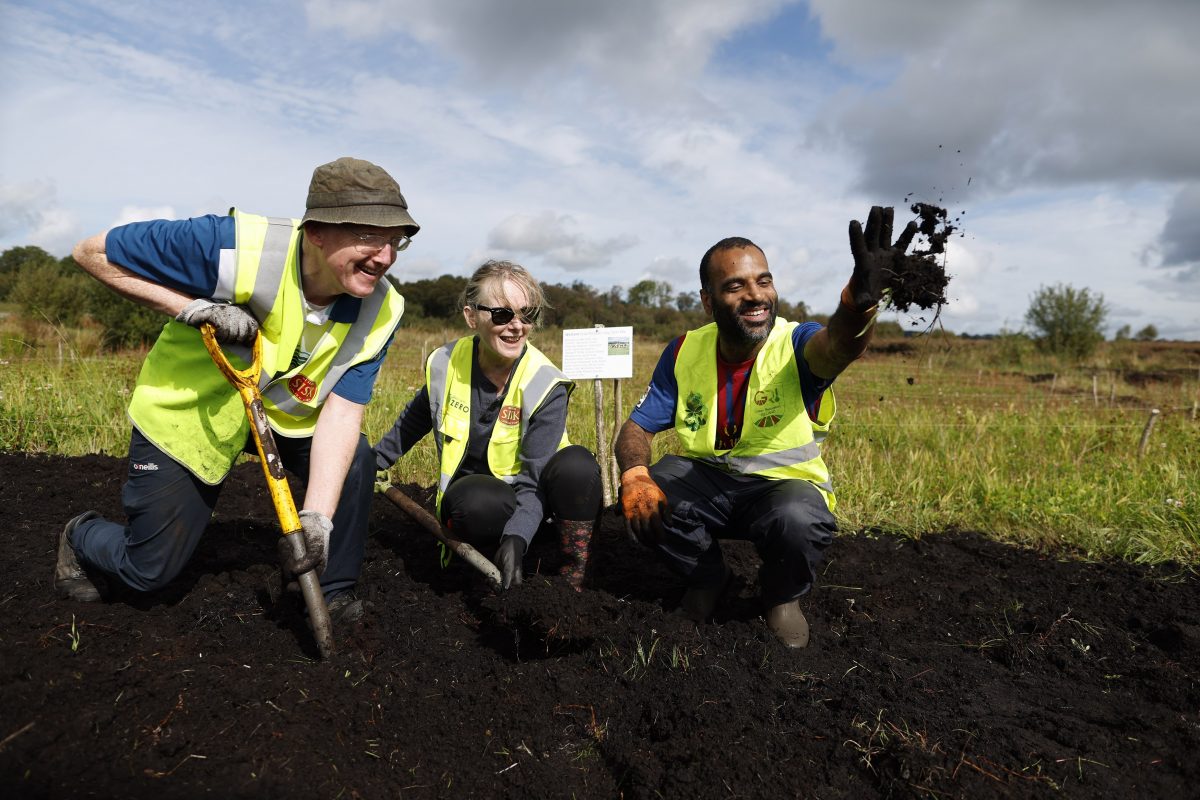 Wednesday 18th October 2023: Ireland's largest construction company, Sisk, has in partnership with Green Restoration Ireland (GRI) completed a day preparing a site in Co. Offaly for sowing season.
This will help to develop a new sustainable form of peatland agriculture for the productive use of wet and rewetted peatlands.
The project is one of Ireland's first two 'wetland farms' at Tumbeagh, Co. Offaly. Since the works have commenced at the site, the water table has been raised on about three hectares of former peat pasture avoiding 30-40 tonnes of CO2 emissions.
Ponds have also been created for biodiversity and a series of adjustable dams have been installed to regulate the water level across the site.
Sisk's involvement in this project is a key target of its wider sustainability roadmap to establish sustainable partnerships that support the successful restoration of peatlands. Over ten volunteers from Sisk took part in the project which saw them clean a peat field of weeds in preparation for these agricultural experiments.
Alan Cawley, Sustainability Manager, John Sisk & Son said: "We are delighted to once again be partnering with Green Restoration Ireland for this exciting new project developing a new form of agriculture. We appreciate the positive impact we can have by volunteering in sustainability projects such as this one. Support for the restoration of our peatlands is one of our key initiatives on our sustainability roadmap. It is great to see the positive impact that our employees can have."
Dr Doug McMillan, Green Restoration Ireland said: "How do we keep producing food while restoring our peatlands? The solution is paludiculture, and we are delighted that Sisk is working with us to meet this key sustainability challenge for Ireland."
ENDS

Notes to Editors
Paludiculture is a new system of agriculture for the productive use of wet and rewetted peatlands for the profitable production of wetland crops. With paludiculture, peatlands are kept under wetter, peat-conserving conditions so minimizing CO2 emissions and field subsidence while still enabling farmers to produce food, feed, raw materials and energy.*
Drainage-based agriculture on peatland causes enormous economic and environmental losses through CO2 emissions (approx. 25% of EU agricultural emissions from 3% of EU agricultural land), loss of biodiversity, water pollution, soil degradation, and subsidence followed by an eventual loss of productive land. In Ireland an estimated 340,000 hectares of peat grassland emit between 4 and 9 million tonnes of CO2 annually.
GRI is undertaking a full experiment for wet multi-species swards (MSS) with grass, legume and herb species that will grow well in high water table conditions. The grass species selected will provide grazing for livestock and also create a robust sward to prevent animals sinking into the field.
About Sisk
Sisk is an innovative, international, construction and engineering business with a long-term vision and over 160 years in operation. Sisk employs approx. 1,900 people and is Ireland's leading provider of construction services with extensive operations across Ireland, the United Kingdom and mainland Europe with the track record, scale and capacity to successfully undertake large, complex multidisciplinary programmes. Sisk is recognised by global clients as a world leader in safe delivery.
Sisk delivers projects and programmes in key sectors such as Data and Technology, Pharmaceutical and Life Sciences, Infrastructure, Transportation, Healthcare, Commercial, Residential, Retail, Industrial, Leisure, Education and Energy. Sisk offers a life-cycle approach to construction from planning and offsite construction, through delivering and fitting out a project safely and sustainably with technology as a key enabler, and then working with clients to help manage and maintain buildings efficiently throughout their lifespan.
About GRI
Green Restoration Ireland (GRI) was established as a cooperative in 2019 with the goal of achieving equitable and innovative solutions to rewetting peatlands for the 'forgotten' farmers and landowners who are in possession of around 77% of Ireland's peatlands.
GRI aims to use its projects to raise public awareness around the critical ecological importance of peatland ecosystems. It has an ongoing project to rewet damaged bogs in County Mayo and after being awarded a European Innovation Partnership (EIP) is currently implementing its Farm: Carbon project.
This aims to carry out fundamental scientific research on actions to address emissions from agriculturally - managed peatlands in the Midlands of Ireland.