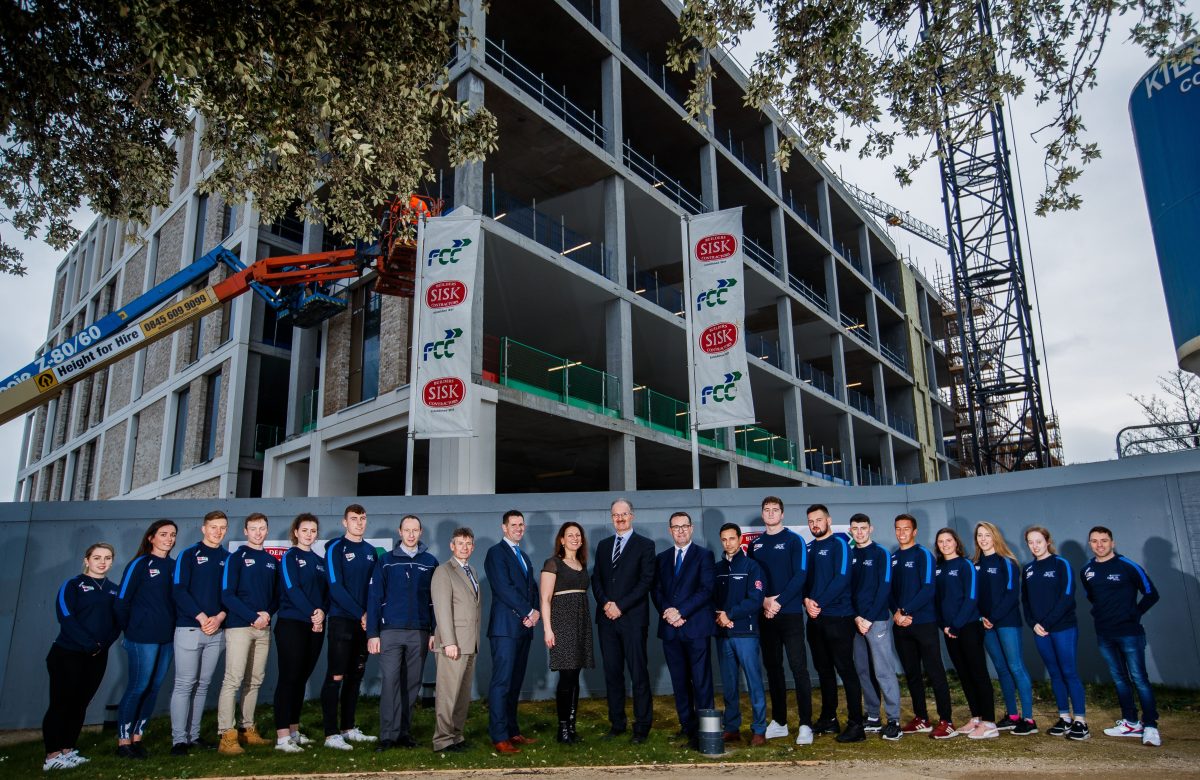 Sisk FCC and TU Dublin announce sponsorship for elite athletes heading towards Tokyo
Sisk FCC and TU Dublin Sport announced a new three-year sponsorship deal for the Elite Sport Programme at TU Dublin. As part of the deal the programme will support Olympic hopefuls on the Road to Tokyo 2020.

Sisk FCC is the joint venture currently building the new Central Quad (Food, Sciences and Engineering) and the East Quad (Creative & Cultural industries) on campus at Grangegorman, Dublin.
This sponsorship will further the University's Elite Sport Programme, supporting athletes. TU Dublin is Ireland's first Technological University, and an exciting new milestone in Irish Higher Education. With campuses in Dublin City, Tallaght and Blanchardstown, it spans the largest population centres of Ireland's capital city.

Donal McCarthy, Ireland East MD Sisk – a former Dublin footballer and DIT Engineering graduate - announced the Sisk FCC sponsorship deal at an event on the TU Dublin Grangegorman campus yesterday. Also present at the event were Sean Stagg, Project Manager, Sisk and Alfonso Morano Sanchez, Project Manager, FCC Construction.
The sponsorship will further the University's Elite Sport Programme, supporting athletes like European Championship Gold Medallist Ellen Keane and Brian Howard, Dublin Senior Footballer and three-time All-Ireland winner.

Donal McCarthy, Managing Director, Ireland East at John Sisk & Son said: "On behalf of the Sisk FCC JV we are delighted to be able to support this exciting programme and partner with TU Dublin's Elite Sports Programme and the Road to Tokyo 2020 campaign. Sisk FCC are pleased to say the project is progressing on time and on budget. We are also pleased to be working in collaboration on this project with our key stakeholders the Grangegorman Development Agency, Macquarie Capital and the NDFA to deliver this exciting educational infrastructure."
Following the announcement, RTÉ Sports Presenter, Darren Frehill held a panel discussion with the men and women of elite sport at TU Dublin who are busy preparing for qualification bids for 2020. Present at the event were Olympic Hopefuls and Elite Athlete Scholars including diver Oliver Dingley, sailor Sean Waddilove, alpine skier Cormac Comerford, badminton player Rachael Darragh, rugby 7's player Katie Heffernan, Dublin senior camogie goalie Faye McCarthy, Dublin senior footballer Niamh McEvoy and elite boxer Luke Maguire.
Before interviewing a panel representing TU Dublin elite athletes, Darren Frehill said he wanted to commend the university for not only investing in athletes involved in the better recognised sports like GAA, rugby and soccer but also in minority sports. He also expressed his amazement at the development of the Grangegorman campus and he congratulated TU Dublin President, Professor David FitzPatrick on creating "something really special – unlike anything we have already."
Professor David Fitzpatrick thanked the Sisk FCC partnership for their support and encouragement of the athletes and said he looked forward to their future success, both in their academic and sporting activities.