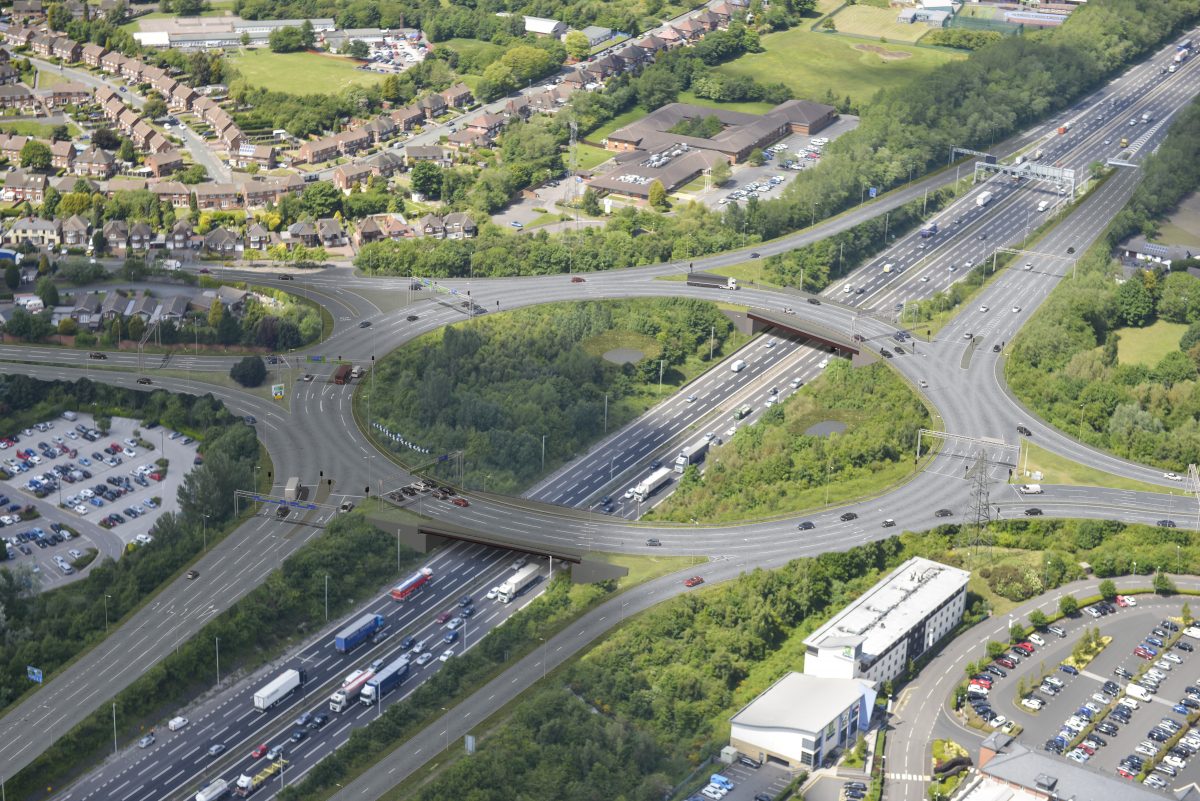 Tuesday 30th March 2021: John Sisk & Son has been appointed to a Highways England £218 million framework to revitalise ageing roads. This builds on Sisk's current place on the CDF framework in which Sisk delivered the A19 A1058 Coast Road junction improvement in Tyneside and is currently working on the M6 Junction 10, Walsall.
The contracts will be design and build to demolish existing concrete road surfaces that are in poor condition and replace with a new improved surfaces. Sisk will be supported through delivery by Tarmac, Chevron Traffic Management and Ramboll.
This new programme is part of Highways England's nationwide drive to revitalise concrete roads in England. Up to £400 million will be invested by Highways England over the next five years to 2025. This is part of Highways England's commitment in their five-year Strategic Business Plan published last year to maintain and renew the strategic road network.
Sisk will work with Highways England to lead engineering and construction on a long-term programme to repair or replace the concrete surfaces of the Strategic Roads Network.
The programme also includes plans to recycle and reuse materials wherever possible and a Centre of Excellence has been established to coordinate innovative ways of renewing these concrete roads. Sisk will embed its 2030 Sustainability Roadmap throughout the project lifecycles to leave a positive impact on the local environment, maximising recycling and minimising carbon usage. We will also be offering a local legacy by engaging with local schools, creating local employment opportunities and engaging with local suppliers and SMEs.
Throughout the life of the programme Sisk and Highways England will minimise the disruption to road users, local communities and business. All plans will be coordinated to engage with, listen to and meet the needs of the customers.
Nick Culshaw, Managing Director, UK Civils & Rail, John Sisk & Son said: "We are thrilled to be selected by Highways England for this significant programme of concrete road renewals. This is a very exciting framework and an opportunity to collaboratively deliver a safe, efficient, innovative solutions to replace the concrete roads. We are also looking forward to working with Highways England to deliver the social value and local legacy benefits of these projects."
Martin Fellows, Highways England Regional Director, said: "Concrete roads have served the country well since they were first built half a century ago. They have proved tough and durable over the years, helping every day for work journeys and home deliveries, visits to friends and family, holidays, and the movement of the goods and services that we all depend on. 
"This is the biggest concrete road renewals programme we have ever embarked on and we're pleased to have awarded the final two contracts that will help us deliver the maximum benefits of safe, reliable and smooth journeys for many years to come."
ENDS