Our best apprentices from the beginning have the right attitude which is willing to learn, put in that extra mile and have the passion to follow their goals.
Carpentry & Joinery apprenticeship
Established over 40 years ago, The John G Sisk Training Centre in Dublin trains skilled young apprentices in carpentry & joinery to a professional level. The Sisk carpentry & joinery apprenticeship is consistently recognised in awards at a national level.

The four year apprenticeship course entails periods of full-time study, practical workshop experience and exposure to the construction site environment as you work towards a FETAC Advanced Certificate Level 6 in carpentry & joinery.

Some of our finest apprentices have participated at the Ireland Skills Live competition and other Sisk apprentices have gone on to represent Ireland at the World Skills competition.

Applications for our carpentry & joinery apprenticeship intake has now closed.
Apprentices have been trained at the John G Sisk Training Centre
Years the John G Sisk Training Centre has been in operation
Apprentice carpenters/joiners recruited each year
A Sisk apprenticeship is the beginning of a career journey that is a ticket to anywhere in the world
"When I was in transition year I decided on Sisk as my number one choice – I loved the idea of a company with a training centre."
Jack Ledwith
First year apprentice carpenter & joiner
Jack Ledwith delivering toys to Tallaght Hospital, Dublin.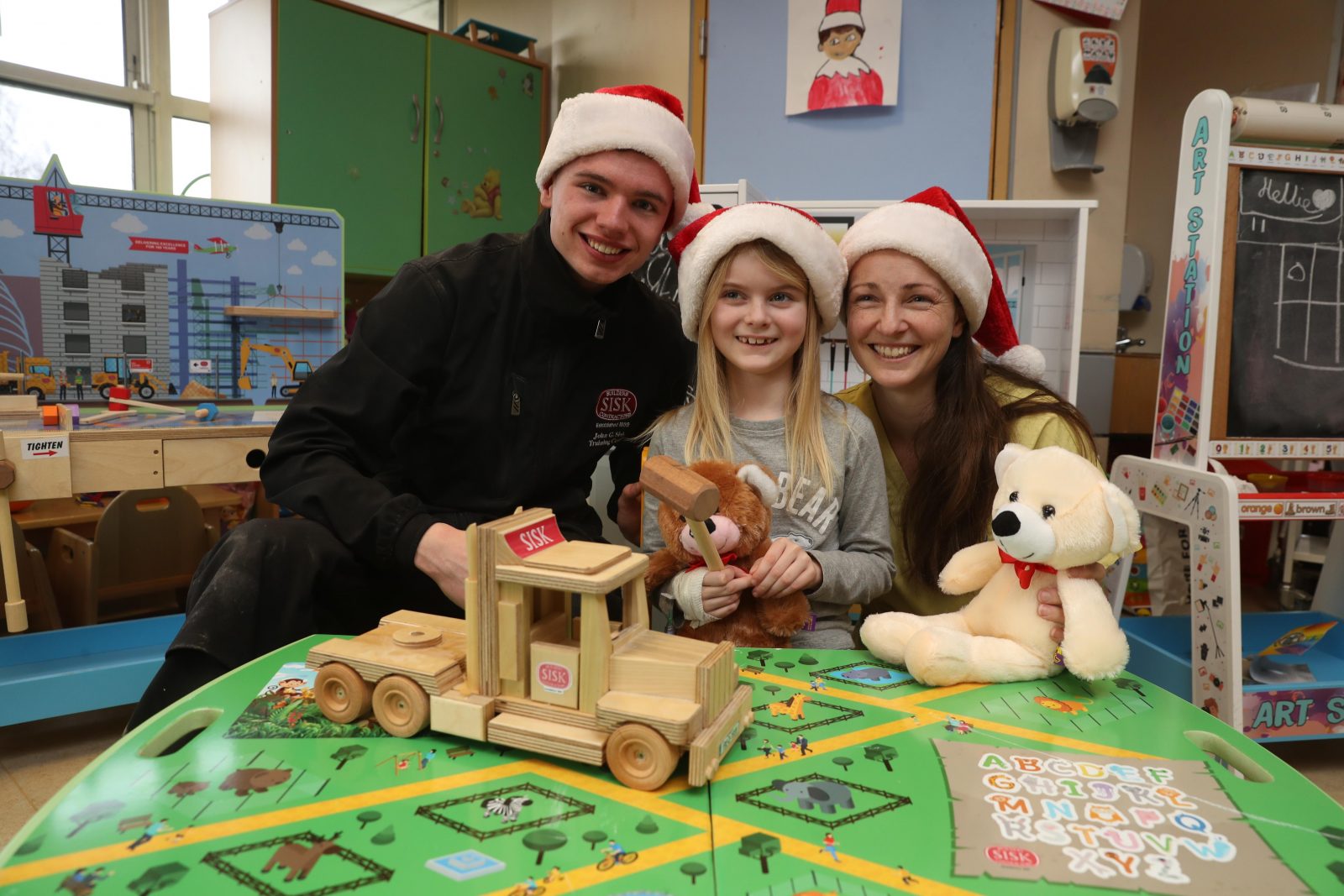 Chartered Quantity Surveyor Degree apprenticeship (UK)
Are you keen to become a chartered quantity surveyor in a leading building contractor?

If so, then our Quantity Surveying apprenticeship programme could be just right for you. Not only will you be sponsored to achieve a BSc (Hons) in Quantity Surveying during the 5-year training programme, but you will also become a chartered Quantity Surveyor with the RICS. Following a structured learning plan with one of our training partners (University College of Estate Management or Technological University (TU) Dublin, you will be either attending college/university campus or studying via a blended learning approach 1 day a week, and undergoing rigorous workplace learning for the other 4 days of the week. This will all be with full academic and employer support.

Apart from the minimum qualifications, if you are passionate about building your career as a Quantity Surveyor in the construction industry, are strong in analytical thinking, pro-active and motivated in your approach both from an individual and team environment, and are constantly hungry to learn, then we hope to hear from you!


Level 6 Degree Apprenticeship-Project Management (UK)
Applications are now closed

UK Level 6 Degree Apprenticeship-Chartered Quantity Surveyor (UK)
Applications are now closed